Truck Accident Lawyers in Maryland
Truck Accident Cases
The sheer size and weight of trucks can make any truck accident life-threatening. Due to the high risk associated with these accidents, it is important to secure a Maryland truck accident attorney with extensive experience navigating personal injury law who can help you recover the compensation you deserve.
Wilson & Parlett is a reliable personal injury firm that represents plaintiffs in truck accident cases in Maryland, Washington DC, and Virginia. If you suffered an injury or have lost a loved one in an accident involving a truck or commercial van, schedule a free consultation with our team.
Our lawyers are recognized for their commitment to making sure every client recovers the maximum compensation he or she is entitled to receive.
On This Page
Also Serving Drivers in Virginia & Washington DC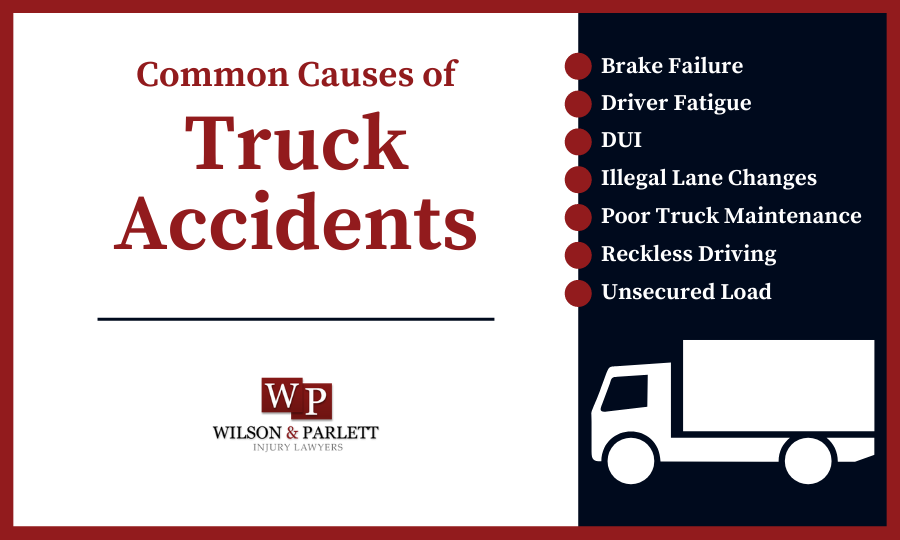 Common Causes of Trucking Accidents
Common causes of an 18-wheeler and semi truck accidents include:
Truck driver fatigue/falling asleep at the wheel
Poor truck maintenance
Brake or steering failure
Unsafe load or unbalanced freight
Truck driver DUI
Trucker speeding or driving recklessly
Illegal lane changes
How Are Truck Accidents Different Than Car Crashes?
Truck accidents are different from conventional auto accidents in Maryland for a number of reasons. Some of these differences are probably very obvious to you. However, you would have to have some experience in either law or the ground-freight logistics industry to automatically know some of the other factors that lead to drawn-out injury cases, teams of lawyers representing the defense and complex insurance matters in many commercial vehicle cases.
Generally speaking, there is a major physical difference in the way large commercial vehicles behave when they collide versus the way smaller ones do. As you might expect, this tends to create extreme consequences for truck accident victims. Seeking compensation for these severe injuries could pose some challenges.
Who Can Be Held Liable In A Truck Accident?
Unlike other motor vehicle accidents, there are unique elements of truck accidents that provide different legal challenges. In a truck accident, there are several parties that could be held accountable, including:
The truck driver
The supervisor
The trucking company
The truck manufacturer
For example, if a truck sideswiped your vehicle and ran you off of the road, causing injury, distress and property damage, the driver would not be the only person you would have to deal with. The driver in this situation would likely work for a shipping company.
That company could have a share of the blame due to the fact that it hired someone who was not able to perform basic duties correctly. You might end up in court facing the driver, the trucking company and the insurance representatives for both parties. Combined, your opponent's resources would be significant.
Truck accident injury cases are not likely to be similar to any car accident case you might have experience with. Truckers have unique responsibilities and the lawsuits against them often take a very specific form, so it is crucial that you understand the differences before you proceed.
Our team can carefully assess the circumstances of your accident to determine which parties should be held liable.
Proving Fault in Truck Accident Cases
Injuries from truck accidents can be severe and long-lasting, ranging from broken bones to internal organ damage to traumatic brain injury. Under Maryland's comparable negligence rule, if the injured is found to be any percentage at fault for the truck accident, they are prohibited from recovering financial damages.
At Wilson & Parlett, our personal injury attorneys bring over 85 years of combined experience to prove fault, always striving to secure a favorable outcome.
Trust Our Experienced Maryland Truck Accident Attorneys
Trucking companies will do everything they can to avoid turning over logbooks and data that might be incriminating. Their insurance company will undoubtedly try to avoid claiming liability or paying you the full amount you deserve.
In the aftermath of a truck accident that has left you injured, you deserve a capable lawyer who is ready to fight for you. Wilson & Parlett is the firm you will want in your corner.