Workers' Compensation Attorneys
Workers' Compensation Claims
For more than 30 years, workers injured on the job in Maryland, Virginia, and Washington DC have been coming to Wilson & Parlett for assistance with their workers' compensation claims. We have represented thousands of workers who have suffered on-the-job injuries, including clients who have previously been denied by the insurance companies.
You can count on our workers' compensation attorneys to handle your claim with professionalism while seeking the maximum compensation to which you are entitled.
On This Page
Serving Workers in Maryland, Virginia & Washington DC
To get started on your claim, schedule a free consultation with Wilson & Parlett. Call us at (301) 231-1737.
What is Workers' Compensation?
Workers' Compensation insurance is a form of protection that is provided to employees in the event that they suffer from an accidental injury while on the job. This insurance generally covers wage replacement and medical benefits, depending on the level of coverage determined by the employer.
Do I Qualify For Workers' Compensation?
Your employer in Maryland probably carries workers' compensation insurance as required under the law. If you get into an accident and are injured at work, you have the right to make a claim under this insurance. However, not every injury is covered. It is important that you understand what injuries must be reported so you can ensure you get proper coverage.
To begin with, the Workers' Compensation Commission explains you must make sure the injury falls under those covered by workers' compensation. The law is pretty specific. The injury must result from an accident that occurs during the course of your employment. This may seem like a simple statement, but it can get complicated.
The incident has to have been accidental. If you did something to lead to the accident that was against the rules or the law, then it will not be covered. It also has to happen while you are working. This means while you are doing your job duties. If it happens outside your work hours and you were not operating under the direction of your employer, it may not be covered.
You have to be an employee of the company. This may seem obvious, but you need to ensure you are an employee. Some employers hire people on as independent contractors. If you are designated as an independent contractor, you cannot claim benefits under workers' compensation.
Even if you meet all the requirements, there must still be a hearing to determine if you can receive benefits. You must present evidence to back up your claim for it to be approved.
Do I Need a Lawyer for a Workers' Comp Claim?
It is important to keep in mind the various deadlines, statutes of limitations, and other roadblocks to navigate in a typical workers' compensation claim. Working with an experienced Maryland workers' compensation lawyer at Wilson & Parlett can ensure that your claim is handled properly. Having an attorney by your side can significantly improve the likelihood that you will receive the full benefits you are entitled to under the law.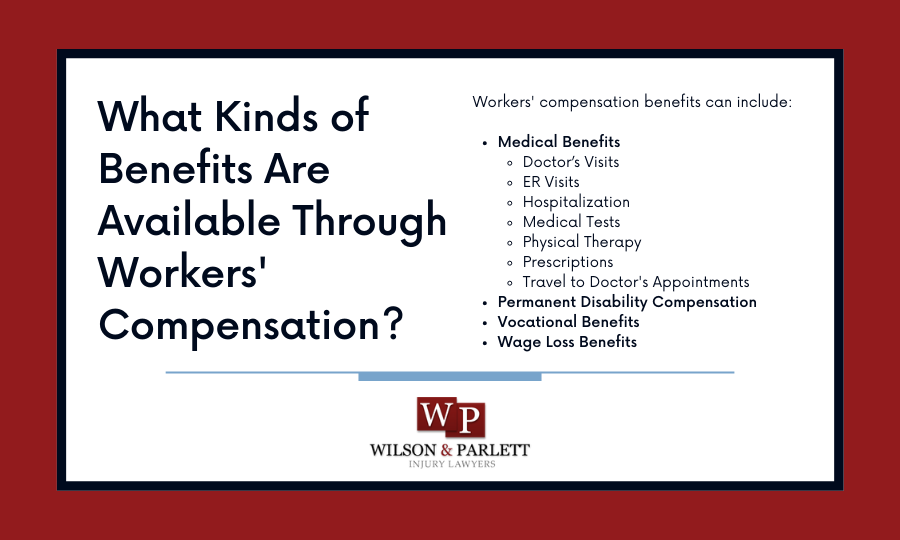 If you have been injured in an accident at work, our workers' compensation attorney can help you with the following:
Wage loss benefits while unable to work because of your injury
Payment of all medical expenses (lifetime benefit)
Reimbursement of prescription drug expenses
Payment of mileage to attend doctor and therapy appointments
Vocational benefits for claimants who are unable to return to their former jobs
Compensation for any permanent disability resulting from the work injury
How Long Do I Have to File a Workers' Comp Claim in Maryland?
Maryland Labor and Employment Code § 9-704 clearly states that the time limit that is required for injured workers in Maryland to file a claim is within 30 days. This notice must be give to the employer in a written or oral notice and must include the name, address, and nature of the accidental injury.
Accidental Injuries: An injured worker must file an injury within 10 days after the accidental personal injury
Fatal Injuries: At least 1 dependent or an individual on the behalf of the covered employee has within 30 days after the death to file a claim
Wilson & Parlett is the firm you will want in your corner when facing workers' compensation and workplace injury litigation. We have lawyers who are specifically trained in Maryland, Virginia, and Washington DC workers' compensation claims. Each state has its unique set of benefits, processes, and deadlines for filing. We are familiar with the differences between states and can ensure your claim is handled properly in accordance with your state's laws.
What are 10 Common Office Hazards?
Office workers in Maryland are susceptible to several types of injuries if the workplace is not organized properly. According to the University of Michigan, extended hours spent at a desk each day could cause more than simply strain upon the neck and back. In fact, some office employees experience hearing problems as a result of this environment.
Regular exposure to loud equipment, or even phones, could cause varying degrees of damage. This type of work could also result in impaired vision and difficulty focusing. Combined with the risk of carpal tunnel and related repetitive stress injuries, in addition to slip-and-fall accidents, these problems can turn the office into a hazardous work environment.
10 of the most common office hazards may include the following:
The office should have proper lighting. Having work lights at each station may reduce eye strain.
Each workstation should also be adjusted for the individual employee.
Computer screens should be at eye level in order to promote good posture.
The workplace should provide for ergonomic chairs, as well as keyboards, if possible.
Installing carpet and noise-reducing dividers may help mitigate noise-related injuries.
Office fires are common and every building should be up to the required fire safety codes.
Chemical hazards may be exposed and must be contained properly to avoid illness.
Slip and fall accidents are common in all types of office spaces.
Stress hazards may exist in your workplace, depending on the vocation.
Electrical hazards should be reduced by following the correct electrical requirements for the building.
Inc.com states that, in order to minimize the risk of falls, it is important to keep the workplace neat and orderly. Cabinets and drawers that are left open, or that are too overstuffed to close properly, can present a tripping hazard.
Computer cords and similar equipment should not stretch across walkways, or partially block the aisles. All walkways should be cleaned regularly. Employees who lift heavy objects, such as boxes of paper, should be trained on how to do so without straining the back.
Handling Initial Applications & Appeals
Whether this is your initial application or you need to appeal, we are here for you. The legal fees for all workers' compensation claims are on a contingency basis, which means there is no fee unless we successfully help you get the level of workers' compensation benefits you are entitled to. Our attorneys provide a free initial consultation to determine whether or not you have a valid claim. We have also answered some frequently asked questions about workers' compensation on our FAQ page.
Seek guidance from Wilson & Parlett. Contact us online or at (301) 231-1737 today. We have offices in Waldorf and Upper Marlboro.