Rear-End Collisions in Maryland
Rear-End Collision Cases
Rear-end collisions are some of the most common accidents that occur in Maryland and across the country. According to the National Highway Safety Administration (NHTSA), rear-end accidents account for 28% of all accidents in the United States.
Although they only account for 6% of all fatal accidents, they result in countless more injuries and property damage. If you were injured in a rear-end collision, contact the team at Wilson & Parlett in Maryland for the experienced legal guidance you need to obtain compensation for your injuries.
On This Page
Providing Exceptional Legal Representation for the Wrongfully Injured
---
Contact Wilson & Parlett today at (301) 231-1737 to arrange a free consultation with one of our trusted attorneys and discuss the details of your case.
---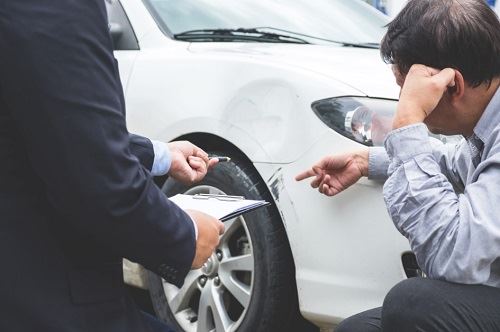 Common Injuries Sustained in Rear-End Collisions
Every accident, no matter how low impact it is, has the potential to result in injuries. Soft tissue injuries are particularly common in rear-end collisions and can result in chronic pain that lasts for weeks or even months.
Below are some of the most common injuries sustained in rear-end collisions:
Whiplash: Also known as hyper-extension, whiplash is one of the most common soft tissue injuries sustained in rear-end collisions. Those suffering from whiplash experience stiffness and pain in the shoulder and neck area. Although the symptoms of whiplash generally do not last more than a week, it is possible for it to last more than a year, depending on its severity.
Back injuries: The force of a rear-end collision, even at a low speed, can cause the spine and disks in the lower area of the back to compress, resulting in a bulging or herniated disk.
Hand and arm injuries: In a rear-end collision, it is not uncommon to get jerked around due to the impact, which can result in hand and arm injuries.
Other common injuries sustained in rear-end collisions include sprains, strains, and bruises. Although soft tissue injuries such as these are often dismissed as minor, they can result in a substantial amount of pain and prevent an injured victim from engaging in their usual day-to-day activities.
Rear-End Collision Settlements in Maryland
Every rear-end collision case is unique and, therefore, each settlement is different. The amount of damage involved and the severity of your injuries will play a major part in the settlement offer you receive. However, do not be in a rush to accept the insurance company's initial settlement offer, especially if you have yet to consult with a personal injury attorney. Their offer might seem fair, but without knowing the extent of your injuries, you cannot know for certain if it is enough to cover the cost of your injuries and property damage.
How Our Team Can Help You
If you were injured in a rear-end collision, obtain the skilled legal counsel you need to recover compensation. At Wilson & Parlett, our Maryland car accident attorneys have represented the wrongfully injured since 1988 and have a reputation for quality legal advice and success. Moreover, we believe you should take this time to focus on recovering and getting back on your feet, which is why we will not charge any legal fees until we win your case.
---
Contact us today at (301) 231-1737 to set up a free consultation.
---