Maryland Car Accident Attorneys
Car Accident Claims
No matter how carefully you drive, you cannot control the actions of other drivers on the road. An unexpected auto accident can not only result in personal injuries – it often causes the victim great pain, discomfort, and inconvenience. Many victims are confused by the process and have questions, such as:
Who will pay for the medical bills?
What about the wages I lose when I'm out of work?
Will my car insurance rates increase if I file a claim against my own insurance?
How do I get my car repaired?
Which insurance company should pay for the property damage?
How do I select a doctor to treat my injuries?
Will my doctor help me if my case goes to court?
How much do I tell the insurance investigator?
If the other driver doesn't have enough insurance, who will pay for my damages?
Is the amount offered by the insurance company really enough for a lifetime of injuries?
At Wilson & Parlett, our Maryland car accident attorneys have over 85 years of combined experience representing the injured victims of car crashes. Our successful record of settlements and trials has resulted in millions of dollars in compensation for our clients. We handle our clients' cases so they can focus on recovering from injuries and regaining quality of life.
On This Page:
Serving Injury Victims in Maryland, Virginia & Washington DC
Schedule an appointment by calling (301) 231-1737 or contacting us online. Our Maryland car accident lawyers will help you take the first step to recovering compensation with a free consultation.
What to Do After a Car Accident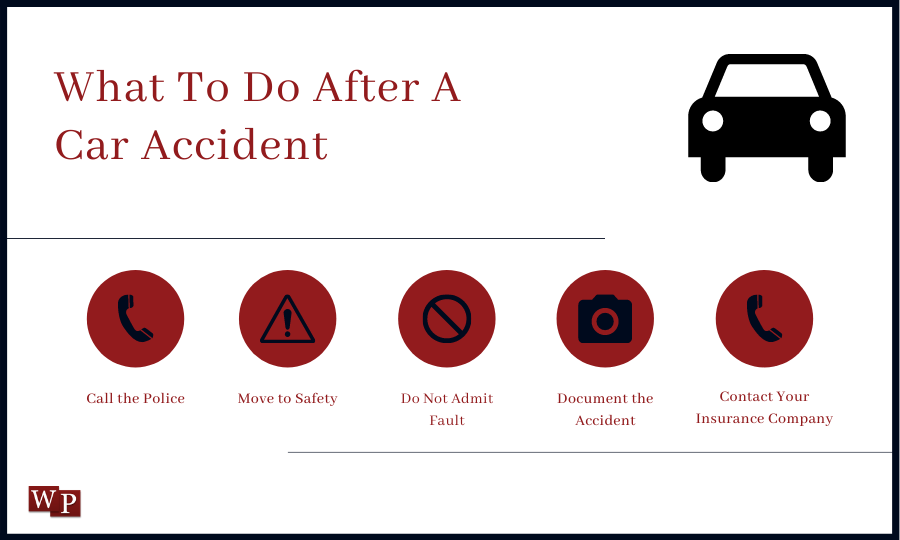 Regardless of the exact cause of your accident, all collisions can be a traumatic experience. Our Maryland car accident lawyers are concerned about your safety as a first priority. If you were involved in an accident, there are important steps to take to maximize you and your loved ones' safety.
Following is a list of 5 steps to take after a car accident:
Step One- Call an Ambulance and the Police: If you were in a car accident and you or those who were involved sustained injuries, contact the proper authorities right away.
Step Two- Move to a Place of Safety: It is important to move you, your loved ones, or any other parties involved to a safe space away from the scene of the accident. However, It is crucial that you do not leave the scene of the accident after you were involved in a crash, as this can lead to serious penalties.
Step Three- Do not Admit Fault: Even if you think that you were at fault for a car accident, the situation may be more complicated than you think, and admitting fault can prevent you from receiving any type of compensation for your accident.
Step Four: Document the Accident: Make sure you take pictures of the accident in detail, and get a copy of the other drivers' license plate, driver's license, and contact information.
Step Five: Contact Your Insurance Company: Calling your insurance company immediately following a car accident is crucial to the claims process. Your insurance company needs to know what is going on as soon as possible so that they can take the proper steps to prove fault and provide you with the compensation you deserve.
No matter how the accident occurred, your recovery is what matters most. In order to properly heal from the incident, you will need financial compensation to cover your medical bills, lost wages, and any property damage you experienced. Compensation in your personal injury claim can also cover your loss of enjoyment of life and your pain and suffering. Our car accident lawyers in Maryland aggressively fight for full and fair compensation to reduce any financial burden and help aid your recovery.
Common Car Accident Injuries
A car crash can caused a wide variety of different injuries, both physical and mental, for drivers and passengers. Some of the common severe injuries that our team at Wilson & Parlett has handled car accident injury claims for include:
Back and neck injuries, including whiplash
Injured or bruised internal organs
Spinal cord injuries, including paralysis
Emotional damage, such as PTSD, anxiety, and depression
Traumatic brain injuries
Additionally, fatal car accidents can result in a wrongful death claim for the surviving family members. No matter how severely injured you are, you deserve to be fully compensated for the damages to your car and to cover your medical bills, lost income, and pain and suffering.
How Do I Know if I Am OK After a Car Accident?
The only way to know how a car accident has affected your body is to visit a medical professional as soon as possible. You should see a doctor after any car accident, even a minor collision. It may not be necessary to go to the ER, but a visit to your healthcare provider will give you information about any injuries you may have sustained.
Car accident victims sometimes make the mistake of not seeing a doctor right away because they believe they are fine. Following a car accident, you may feel like you have not been injured or experience minimal pain in the back or neck. Although your injuries are seemingly minor, they can be symptoms of a greater issue. You may be suffering from hidden injuries or begin experiencing more serious symptoms as your injuries progress. This is why it is crucial to visit a medical provider as soon as possible — your doctor can identify your injuries and provide treatment to ensure you are able to heal.
Additionally, visiting a doctor promptly will only help your claim for damages. Visiting a doctor demonstrates the severity of your injuries to an insurance company and can be essential in calculating the full scope of your damages.
Car Accident Statute of Limitations in Maryland
When pursuing a car accident lawsuit, time is of the essence. There is a three-year statute of limitations from the date the injury occurred. Shortly after an accident, you may be contacted by an insurance company regarding a settlement. In the event you accept an offer, you forfeit all rights to sue for more money later, even if the injuries were unknown or worse than you initially thought. Do not discuss settlement with a claims adjuster until you have consulted with an experienced injury lawyer.
How An Attorney Can Make A Difference After An Accident
In a split second, an accident can change a life forever. Damage to a vehicle can easily rack up hundreds, if not thousands, of dollars in repairs. If injuries were suffered in the crash, medical bills may be the next mounting debt that can be equally as frustrating and overwhelming. If the collision was serious enough, the death of a loved one may only exacerbate the situation, leaving funeral and burial costs that few families ever budget for.
When handling a car accident case, we can:
Handle all communications with the insurance companies
Point you in the right direction for the medical care you need
Obtain police accident reports and thoroughly investigate the case
Interview witnesses
Collect documentary evidence to establish who is at fault and liable for damages
Negotiate a favorable settlement
Take your case to trial if a settlement is not possible
Guiding You Through the Process
After a serious or fatal accident, you want someone you can turn to for help. Someone who will guide you through the process ahead and get results quickly. You know this can be incredibly difficult to do on your own, especially if you are suffering from injuries or grieving the loss of a loved one. This is why turning to a lawyer after a crash is such a good idea.
Skilled motor vehicle accident attorneys, such as those here at Wilson & Parlett, have the experience necessary to walk accident victims through every step that needs to be taken after a crash.
The first step is making sure that you receive proper medical care for your injuries.
The next step is to make sure that a claim is filed with the at-fault party's insurance company or, in the event the other driver does not have insurance, a claim is filed with your own insurance company.
Filing a Lawsuit
In some cases, though, crash injuries or the death of a loved one cannot be addressed merely by talking to an insurance company. When negligence or carelessness is a factor, more drastic steps may need to be taken, such as filing a personal injury or wrongful death lawsuit. In these situations, evidence needs to be collected and the proper legal channels need to be followed. This may not be a process most people are familiar with, thereby necessitating the need for a lawyer.
At Wilson & Parlett, we know the steps that need to be taken after a crash and we have the experience necessary to walk our clients through them. We help residents in Upper Marlboro take control of their lives after a crash by taking care of the overwhelming parts of the process and getting them the compensation they need.
We Are Not Afraid to Take Your Case to Court
The vast majority of motor vehicle accident cases settle out of court. At Wilson & Parlett, we have obtained hundreds of millions of dollars in compensation for our clients through skillful negotiations. However, we believe that vigorous representation should not stop at the negotiating table. When necessary, we are ready, willing, and able to go to court. We have skilled and experienced trial attorneys with successful records of winning significant verdicts for our injury clients.
Our knowledgeable litigators are well-known in the insurance industry, with a reputation for skilled and aggressive advocacy for our injured clients.
Advocating for Car Accident Victims Since 1988
From our convenient offices in Waldorf and Upper Marlboro, our team staunchly advocates for the victims of car accidents in Maryland, Virginia, and Washington DC. When you schedule a free consultation with our legal team, we can thoroughly investigate the situation. Maryland contributory negligence law means that if the injured victim played any part in the car accident, they are unable to recover financial compensation. When there is so much at stake, the car accident injury attorneys at Wilson & Parlett can be the advocates you need.
Hear It From Our Satisfied Clients!
I highly recommend Wilson & Parlett Law Office to anybody who needs assistance on auto accidents, worker's comp, disability claims and serious injuries. The Wilson & Parlett Law Office team are very professional and provide the best customer service to all of their clients.