Maryland has been kicking up its efforts to curb highway auto accidents in recent years with distracted driving becoming a major focus. According to the state's Moving Vehicle Administration, distracted driving is responsible for an average of 27,000 injuries and fatalities annually with cell phone use being a common variable.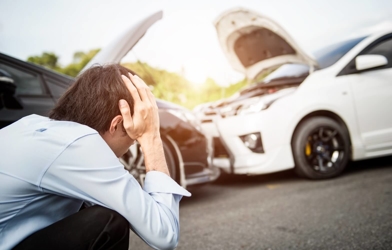 ---
Injured in an accident due to distracted driving? Contact our accident attorneys to seek financial compensation!
---
What are the Cell Phone Driving Laws in Maryland?
It is no surprise that Maryland has begun to crack down on cell phone distraction by prohibiting drivers from using hand-held devices. Due to the number of accidents that are a result of using cell phones while driving, the State of Maryland has required the following:
You can use your hands to operate the phone only to initiate a phone call, to end one or to turn the device on or off. Emergencies provide an exception to this rule as hand-held phones can be used to dial 9-1-1 or make other necessary emergency calls. Any other communication must be made using a hands-free system. Violations can result in a fine and, if the act results in a crash, you can be given points against your license.
Texting and driving are completely off the table as it is illegal to write, read or send a text message while driving a vehicle, along with any electronic messages. If you violate this law, you can face both a fine and be given a point. If a car accident results, both the fine and point amount increase.
Maryland also has "Jake's Law" on the books, which addresses cases in which serious injury or a fatality occurs. If you are using a hand-held cell phone or engaging in texting and driving when the auto accident occurs, you can receive up to three years in prison as well as a fine of up to $5,000.
This post is meant as an educational resource and should not be substituted for legal counsel. If you are suffering from injuries due to an accident with a driver who was texting, you may be eligible for financial compensation. Wilson & Parlett have more than 85 years of combined experience and are passionate about defending your injuries with justice. Contact us today for a free consultation!